February 05, 2018 by Nichols Boats
NBBB TO BUILD HYBRID TRACTOR TUG
NICHOLS BROTHERS BOAT BUILDERS AWARDED CONTRACT TO BUILD HYBRID TRACTOR TUG FOR BAY AREA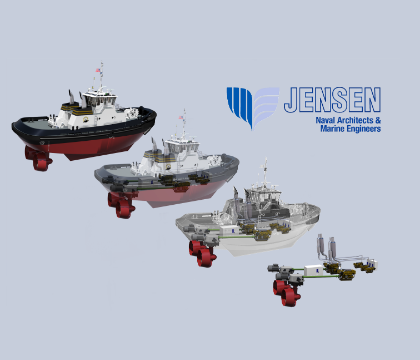 FREELAND, Washington– Nichols Brothers Boat Builders has signed a construction agreement with Baydelta Maritime LLC of San Francisco, CA for a new 100' x 40' Delta Class Hybrid Z-Drive Tractor Tug. Baydelta Maritime specializes in escorts and assists in the San Francisco Bay and is committed to keeping the bay safe and efficient. With the new hybrid tug, this will be the seventh NBBB built tug in Baydelta's fleet; though, the first hybrid tractor tug.
The tug is powered by two (2) Caterpillar C3516 C Tier 3 diesel engines each rated at 1995 kW @ 1600 rpm supplied by Peterson Power of Portland, OR; and by two (2) Rolls Royce supplied 424kw electric motors. The z-drive system, two (2) Rolls Royce 255FP units, can accept power from the diesel engines, electric motors and from both power sources. The electric motors are powered by three (3) CAT C9.3 300Kw each, 480V 3-phase @ 1800 rpm generators, and one (1) harbor generator a C7.1 150 Kw 480V, 3-phase @ 1800 rpm also supplied by Peterson Power.
The Rolls Royce hybrid system, allows for the vessel to operate direct-diesel, diesel-electric or fully-electric. This concept will save on fuel and reduce emissions, while suppling Baydelta with the same power and vessel characteristics needed for their operations. The flexibility provided by the drive system will allow loitering and transit at up to 7-8 knots in electric-only mode, then a bollard pull of >90 short tons in combined diesel-electric mode. The vessel will maintain the exceptional maneuverability, stability, and towing capacity of the earlier Delta Class vessels.
The tug will have 7 berths and the major equipment on board includes; Rapp Marine electric hawser winch, and a single drum tow winch, and Centa carbon fiber shafts. In addition to the drive units and hybrid system, Rolls Royce will be supplying the control system and main switchboard, electric motors and their control cabinets.
Designed by Seattle-based Jensen Maritime Consultants, the tug will carry an ABS Loadline certificate and comply with USCG requirements. "Jensen is proud to have been chosen as the design firm on this project and looks forward to seeing the vessel through from concept to completion," said Bryan Nichols, Director, Business Development Jensen Maritime. "We have a long-standing partnership with, Baydelta and Nichols Brothers and are proud to once again be chosen for this historic build. It demonstrates our commitment to innovative, environmentally friendly design while continuing to deliver powerful, high-quality performance. This tug will meet the industry's demand for strong, yet nimble vessels with the quality design people expect from us."
Delivery of the vessel is scheduled for Quarter 1 2019. "Nichols Brothers is excited about the opportunity to build our seventh Delta Class tractor tug for Baydelta Maritime" says Matt Nichols Executive Vice President, Nichols Brothers Boat Builders. "It is even more exciting to take the design even further with a hybrid concept. Between the expertise at Jensen, the fine craftsmen at Nichols, and the dedication of Baydelta, this vessel will demonstrate and exceed; durable performance, reliability, and environmental responsiveness."
Currently under construction at NBBB is a 139' x 44' ATB Tug with delivery Spring 2018, and a 238' x 44' 100 Passenger Overnight Cruise Boat with delivery Fall 2018.
NICHOLS BROTHERS BOAT BUILDERS is a complete new build shipyard and full-service repair facility located within Puget Sound of the Pacific Northwest. With over 50+ years' experience NBBB's diverse portfolio demonstrates its expertise in steel and aluminum vessel construction. Visit NBBB on the web at www.nicholsboats.com for more information.
JENSEN MARITIME CONSULTANTS INC is a naval architecture and marine engineering firm owned by Crowley Maritime Corporation. The company offers a diverse range of consulting, design and engineering services developed from more than 50 years of experience working around the world. Jensen is a recognized leader in the design of all types of vessels and has built a favorable reputation on a long history of successful designs and conversions with close attention to engineering basics. The company's services include detail and conceptual design and engineering, vessel modifications, lofting, regulatory and shipyard liaison as well as on-site consulting services and on-location assistance anywhere in the world. Additional information about Jensen can be found at www.jensenmaritime.com.
For more information about Jensen's 124-year old parent company, Crowley, please visit www.crowley.com
ROLLS-ROYCE HOLDINGS PLC
1.Rolls-Royce's vision is to be the market-leader in high performance power systems where our engineering expertise, global reach and deep industry knowledge deliver outstanding customer relationships and solutions. We operate across five businesses: Civil Aerospace, Defence Aerospace, Marine, Nuclear and Power Systems.
2.Rolls-Royce has customers in more than 120 countries, comprising more than 400 airlines and leasing customers, 160 armed forces, 4,000 marine customers including 70 navies, and more than 5,000 power and nuclear customers.
3.We have three common themes across all our businesses:
Investing in and developing engineering excellence
Driving a manufacturing and supply chain transformation which will embed operational excellence in lean, lower-cost facilities and processes
Leveraging our installed base, product knowledge and engineering capabilities to provide customers with outstanding service through which we can capture aftermarket value long into the future.
Annual underlying revenue was £13.4 billion in 2015, around half of which came from the provision of aftermarket services. The firm and announced order book stood at £76.4 billion at the end of 2015.
5.In 2015, Rolls-Royce invested £1.2 billion on research and development. We also support a global network of 31 University Technology Centres, which position Rolls-Royce engineers at the forefront of scientific research.
6.Rolls-Royce employs over 50,000 people in more than 46 countries. Nearly 15,700 of these are engineers.
7.The Group has a strong commitment to apprentice and graduate recruitment and to further developing employee skills. In 2015 we employed 228 graduates and 277 apprentices through our worldwide training programmes.