S-194 M/V Rachael Allen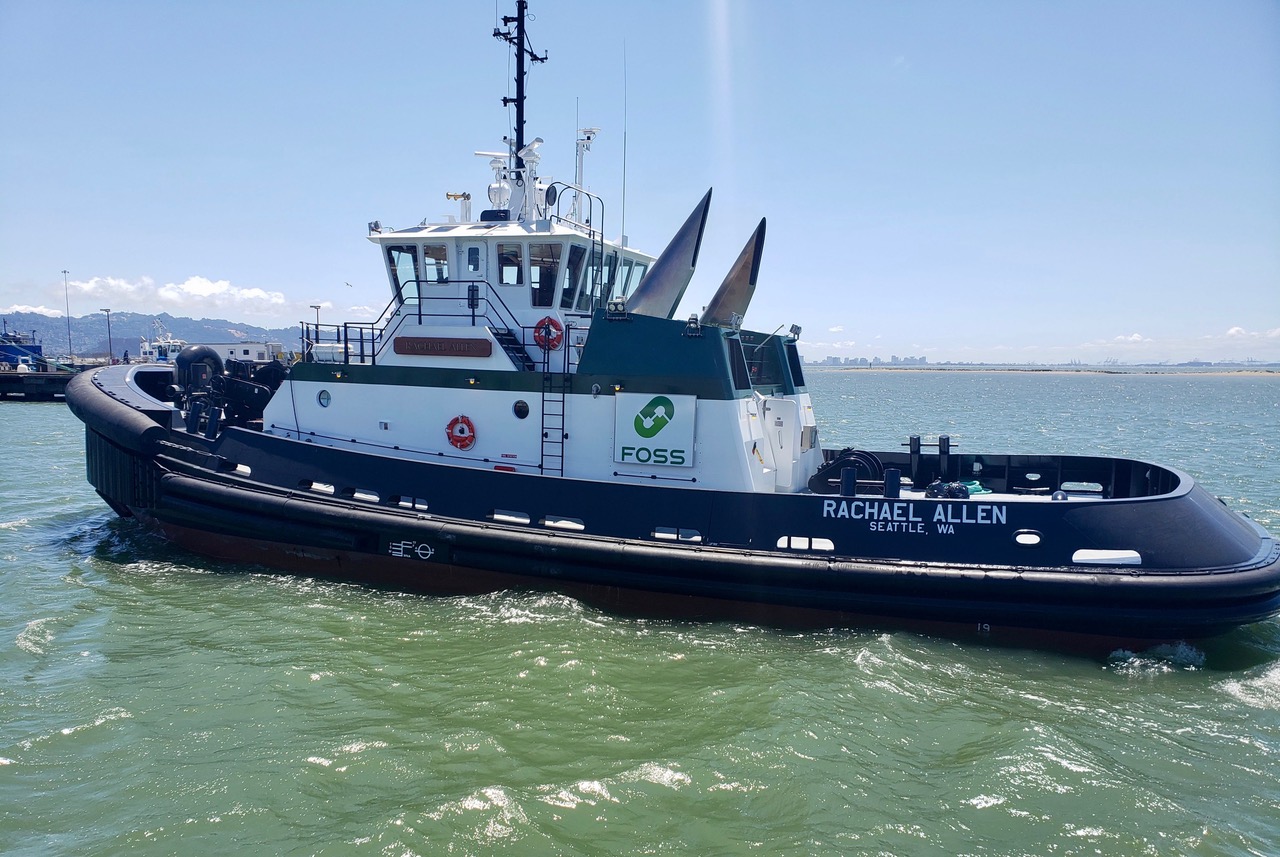 100' x 40' ASD-90 Class Tractor Tug
Nichols Brothers Boat Builders delivered the final ASD-90 tractor tug in a four-vessel series on Sunday, June 6, 2021 to Foss Maritime, a division of the Saltchuk company. NBBB completed and delivered the four-vessel build series including the JAMIE ANN, SARAH AVRICK, LEISA FLORENCE, and RACHAEL ALLEN in April, September, November 2020 and June 2021 respectfully. Two vessels will be stationed in Los Angeles/Long Beach, while the other two vessels will be in the San Francisco Bay providing escort and assist services to large tankers and containerships calling on the California ports.
The ASD-90 Class tugs are a Jensen Maritime Consultants, of Seattle, Washington design. The 100' x 40' Z-Drive tractor tugs are built to United States Coast Guard Subchapter "M" regulatory standards, with ABS loadline certification, and UWILD notation.
The vessels were built to the most stringent emission requirements meeting Tier 4 standards, with two MTU Series 4000 main engines that meet the US EPA's highest standards, reducing particulate and nitrogen oxide emissions to near zero through a selective catalytic reduction system.
The MTU Series 4000 engines are paired with Kongsberg US255 azimuth thrusters. The propulsion package produces over 90 tons of bollard pull giving the tugs exceptional pulling power and maneuverability. The vessels are outfitted with Mackay Marine Electronics and Markey winches forward for ship assist and aft for barge towing.
The NBBB and Foss team persevered through the disruptions caused by the Coronavirus outbreak, and maintained a modified schedule, delivering all four vessels during the global pandemic.
"On the onset of the COVID pandemic, construction came to a screeching halt, until safety protocols were set into place to protect our workforce. NBBB reacted rapidly and measures were in place to keep our employees working and our projects going, Foss was an incredible team player with encouragement toward the safety of our people and operations" said NBBB CEO Gavin Higgins. "I am very proud of the way our employees responded to the pandemic and their commitment as essential workers".