S-180 MANU'A TELE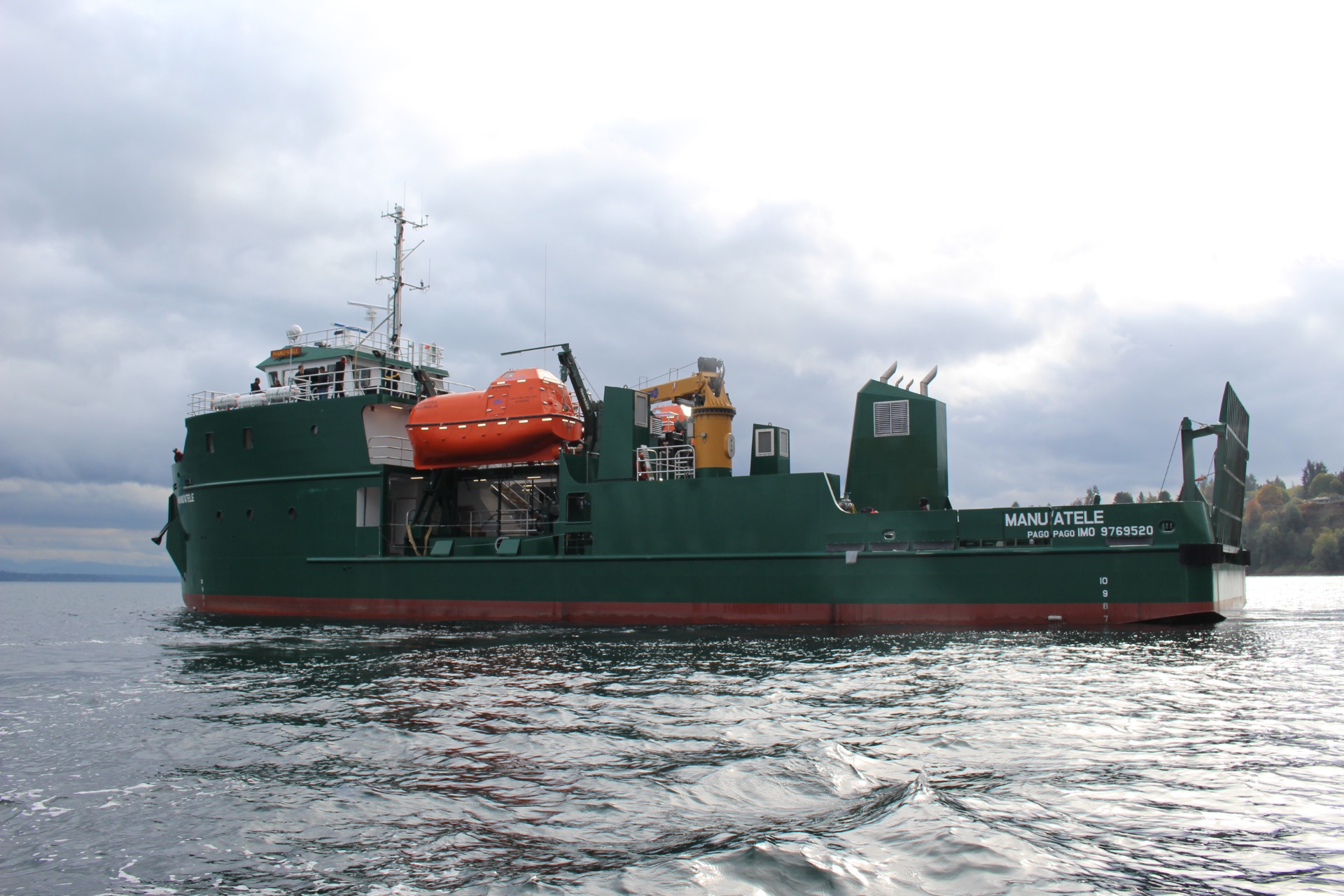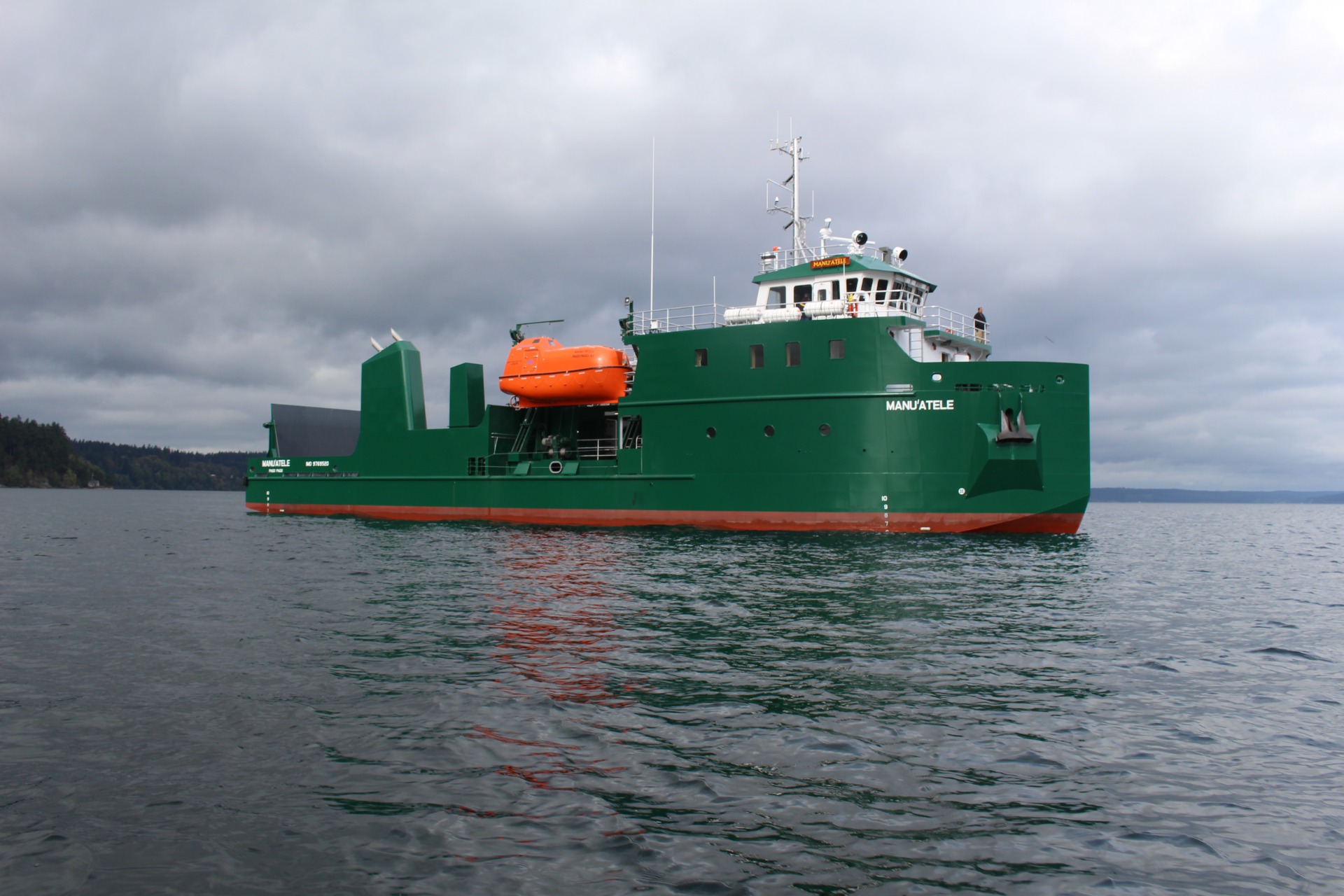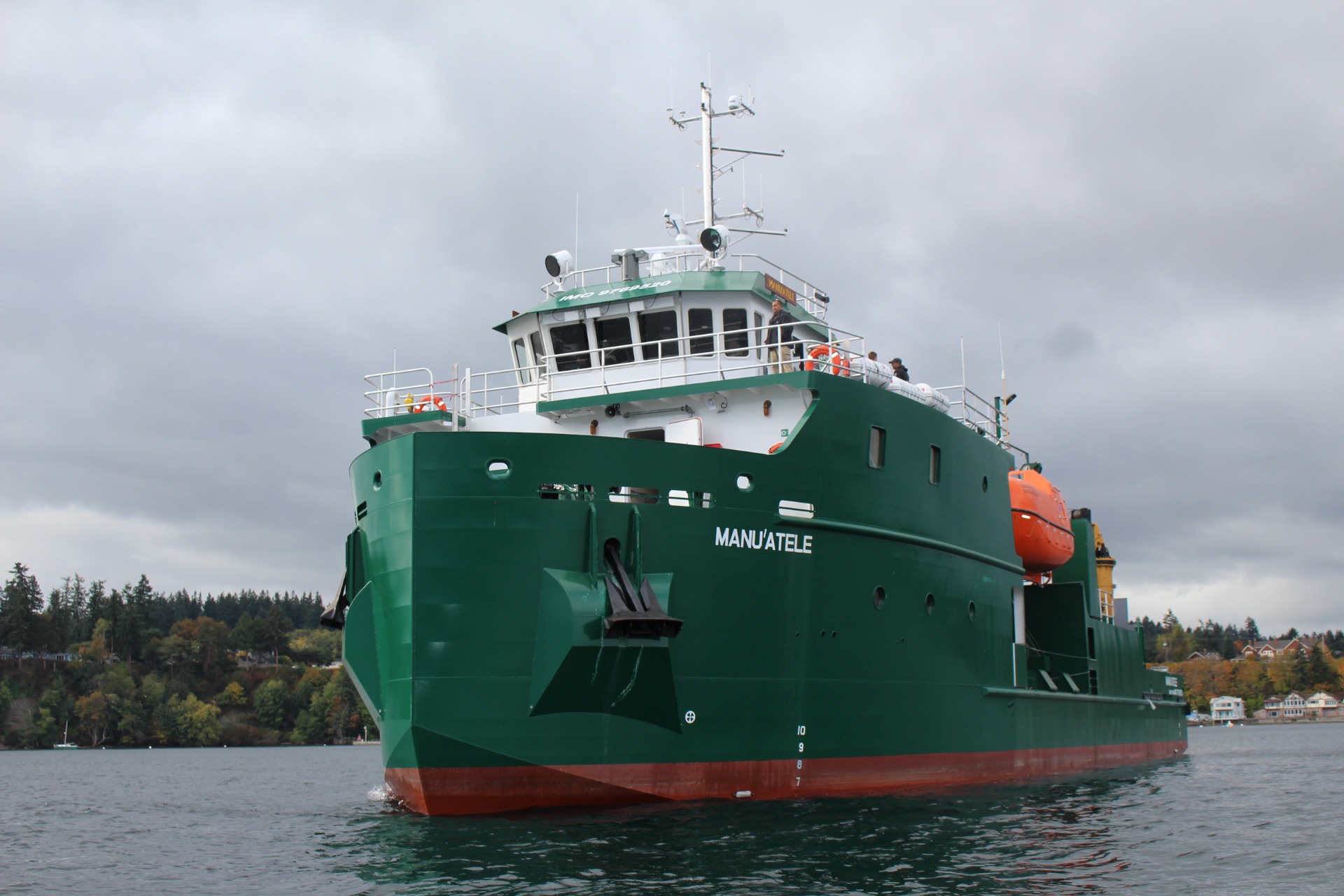 140' X 38' X 13' MULTI-PURPOSE CARGO & PASSENGER VESSEL
Nichols Brothers Boat Builders was contracted by the Government of American Samoa to build a multi-purpose cargo vessel, the MANU'A TELE. This 140' x 38' x 13' landing craft style vessel was designed by Seattle, WA design firm Elliott Bay Design Group. The vessel is built to ABS Loadline requirements, USCG 46 CFR Subchapter T for Passenger/Cargo vessels, plus the ocean-going certification by SOLAS and MARPOL. The vessel operates in international waters with a weekly route between the capital Pago Pago on Tutuila Island and calls on the north coast villages of Afono, Vatia and Fagasa, then heads west across 60 miles of open ocean to reach the remote Manu'a Islands. It also visits other island nations such as Tonga and Fiji on occasion.
The route requires navigation through narrow passes in coral reefs and turning tight quarters while docking in shallow water in the harbors of the Ta'u and Ofu islands. The vessel size was critical in the design development and ultimately the MANU'A TELE was built to 140' length, with a 38' beam drawing 13' draft.
Accommodating the islands existing docks was one of the challenges while designing the vessel. The vessel's true purpose is the transportation of passengers and cargo; from vehicles, supplies, goods and equipment.
The MANU'A TELE has comfortable seating for 140 passengers and berths for 15 crewmen. A spacious galley equipped with commercial grade appliances is necessary for the long voyages. Six inflatable life rafts are stowed against the rails on the bridge deck. Deck equipment includes four fire monitors and a Rapp anchor on the raised foredeck to hoist the twin anchors with heavy chain rodes.
The cargo deck is 1840 sq. ft. with a load capacity of 165 tons. At the stern is a ramp lifted by two Pull Master hydraulic winches allowing the loading/offload of vehicles to or from a nearby beach. A 15-ton capacity telescoping North Pacific deck crane can hoist cargo from a dock in slings, on pallets, or containers up to 10' x 8'.
The vessel also acts as a floating gas station, transferring gasoline and diesel fuel to onshore tanks, small craft alongside and/or to vehicles onshore. All fuel valves, vents and hoses are located on the aft deckhouse bulkhead inside a large over-flow containment sump. A metering pump is located below deck to ensure accuracy as fuel is dispensed.
The vessel is propelled by two 850-HP Caterpillar C32 ACERT Tier 3 engines, with Twin Disc MGX-5225 DC, 4.03:1 reduction gears and 60"-diameter, 4-bladed NIBRAL propellers manufactured by Sound Propellers. Cruising speed is 10 knots, top speed 12 knots. The generators are a pair of 99 kW Caterpillar C4.4 Tier 3/IMO II compliant.