S-201 M/V Enetai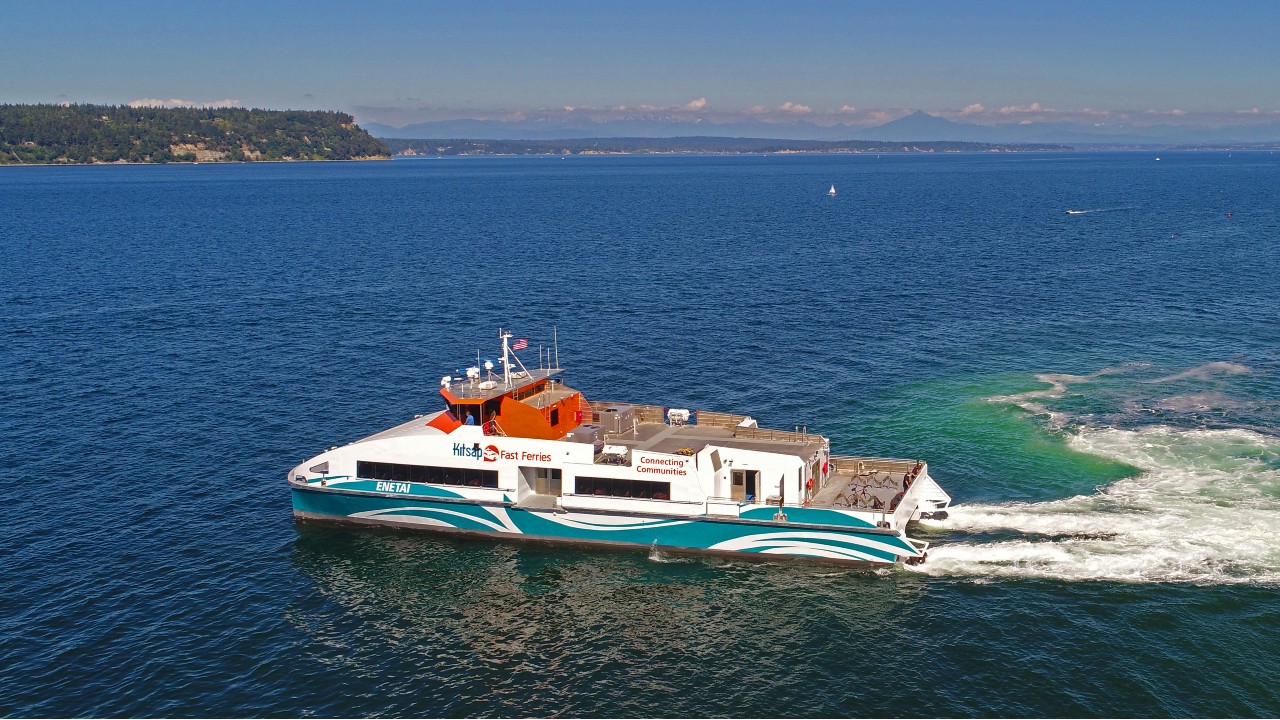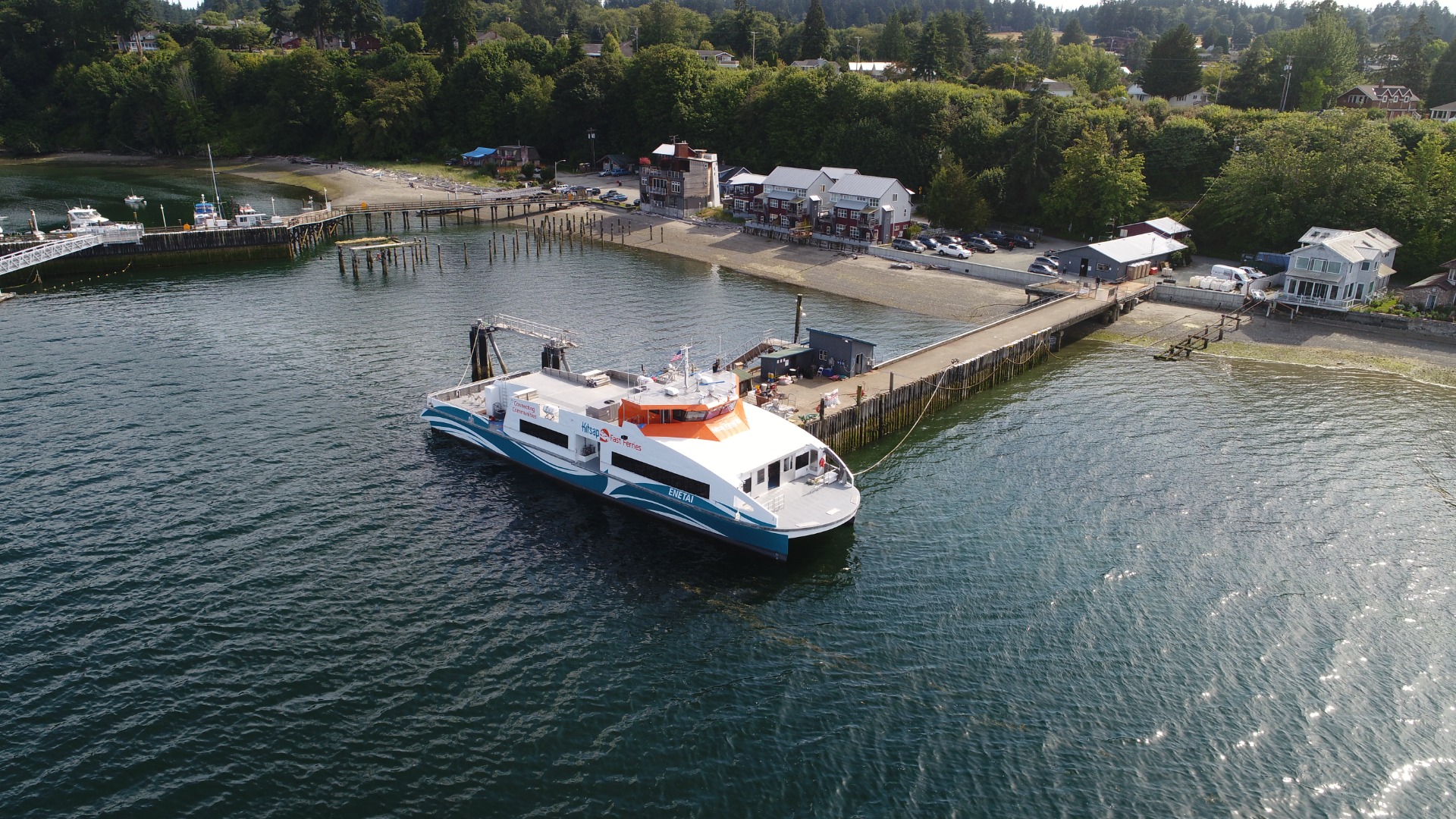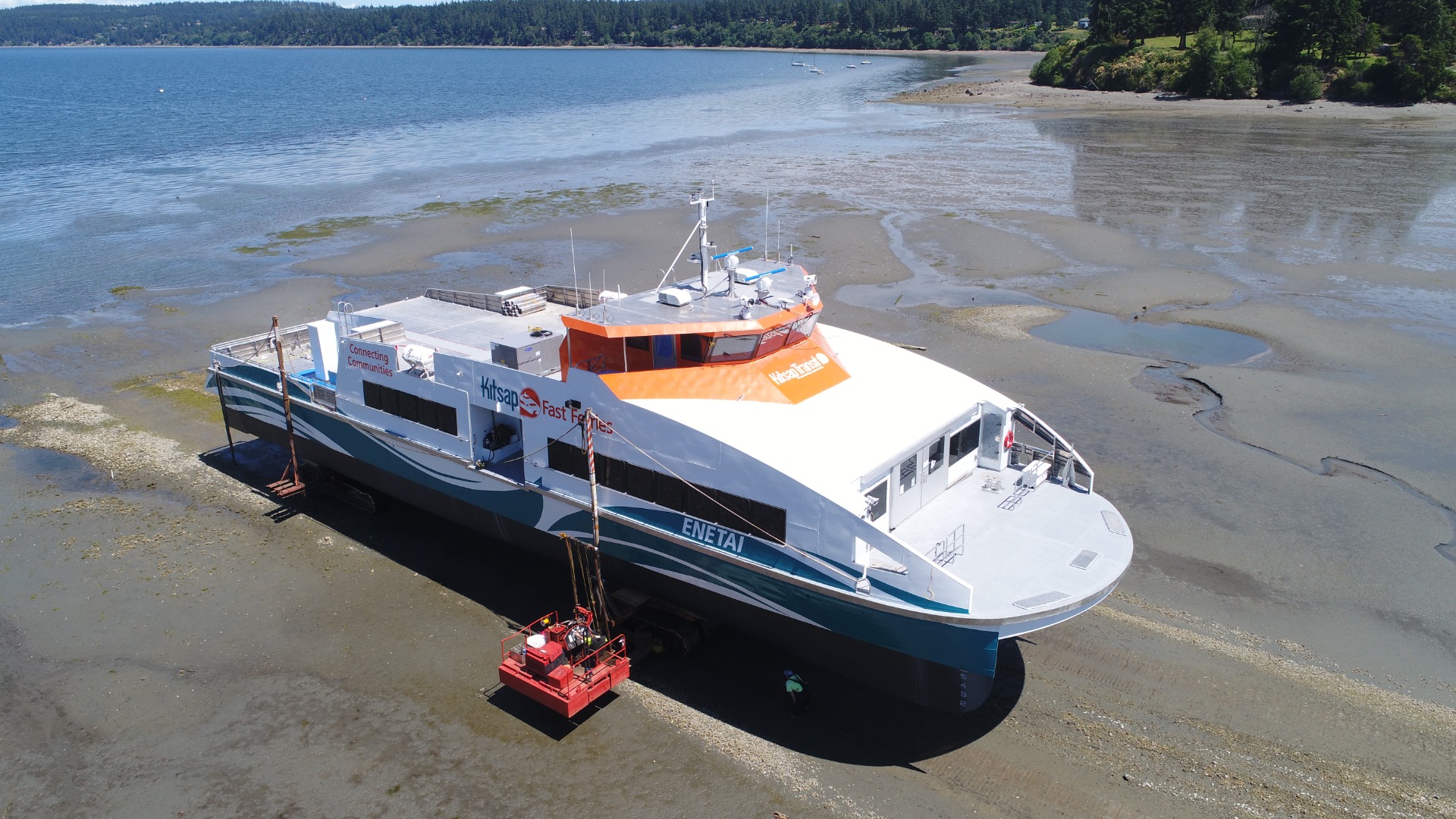 140' x 37' x 12' Aluminum High-Speed Passenger-Only Ferry
The first of the two vessels the M/V ENETAI was delivered in September 2020, and out-performed design expectations during vessel trials, delivering to Kitsap Transit; a lighter, faster, and smoother riding vessel.
Kitsap Transit awarded a design and construction contract to Nichols Brothers Boat Builders for two new ferries in December 2018. NBBB partnered with BMT of South Hampton, UK for vessel design.
Kitsap Transit's design requirements included: a bow-loading configuration to utilize Washington State Ferries (WSF) existing downtown Seattle Coleman dock. Speed requirements of a minimum 35-knot cruising speed to allow for efficient route scheduling not to interfere with WSF's existing schedule. Plus, passenger comfort and amenities were priorities for Kitsap Transit and their passengers.
During vessel trials the ENETAI reached 40 knots, exceeding speed expectations by 3-knots bringing up the ENETAI's cruising speed to 38 knots at full load. The Naiad active ride control system ensured a smooth comfortable ride at the high-speed.
In addition to the 250-passenger capacity, the vessel accommodates 26 bicycles, a must for Seattle commuters. Leisure and commuting passengers alike will appreciate the onboard amenities; noise and vibration has been reduced within the passenger cabin by using USCG approved noise attenuation materials, an advanced heating and air conditioning system will keep passenger areas warm in the winter and cool in the summer, all seats contain a USB outlet and charging station, and the vessel is equipped with high-speed wifi connectivity.
The ENETAI, a 140' x 37' x 12' aluminum high-speed catamaran was built to USCG subchapter K regulations. It is among the first ferries to feature a selective catalytic reduction (SCR) exhaust aftertreatment system powered by two MTU Tier IV 16V400M65L main engines each putting out 3435 HP @ 1,800rpm, through ZF 9050 gears, turning Kamewa S71-4 waterjets, reaching 38 knots at full load.
The ENETAI was placed into service in November 2020 expanding Kitsap Transit's marine service from Southworth and Kingston to downtown Seattle.
"Kitsap Transit has been excellent to work with, their dedication to the development of the waterway system here in Washington is not only greatly needed, but also valued by all who live in the surrounding Seattle area," said Gavin Higgins, NBBB's CEO. "NBBB has built over 50 high-speed catamarans for the United States, it is rewarding to see another NBBB ferry right here in our region, with a second to follow in a few short months."
Check out NBBB's sneak peek video of the ENETAI here.