February 05, 2018 by Nichols Boats
ENHANCING PASSENGER AND CREW EXPERIENCES.
NBBB CONTINUES TO BUILD CRUISE SHIPS THAT ENHANCE PASSENGER AND CREW EXPERIENCES.
Nichols Brothers Boat Builders (NBBB), located on Whidbey Island, WA, has a long history as a builder of cruise/passenger vessels in North America. In 1970 they launched and delivered their first Overnight Cruise Boat, the M/V Christian, a timely refined vessel cruising the San Juan Islands of Washington State and up to South East Alaska. Now, in 2018, NBBB continues to build exceptional cruise ships for the industry, amid developing futuristic concepts and integrating new design requirements into the build process. NBBB offers customers quality-built vessels outfitted with state of the art equipment and prevailing technology throughout their ships, that enhance their operations and strengthen crew and passenger experiences.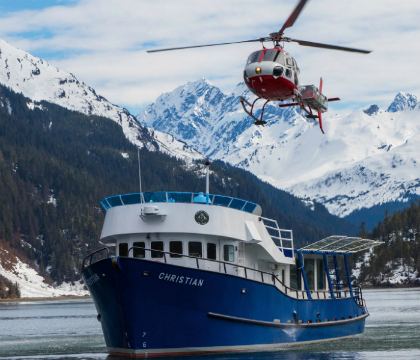 NBBB has grown simultaneously with the cruise and passenger vessel industries. As regulatory requirements progressed, and vessel designs advanced, the Yard has worked closely with the US Coast Guard to develop requirements, and adopted new construction methods and strategies. The yard has integrated innovative technologies into ship designs and shipyard infrastructure. NBBB is led by entrepreneurs who learn from each project and build upon it. They continue to build cutting edge boats for all industry sectors, with an extensive history in the cruise segment.
The M/V Christian, built in 1970 had a 10-man crew and was built as a youth bible excursion vessel allowing for 30 passengers. The vessel changed the lives of many youth sea-goers as they embarked on an excursion unknown. Passenger and crew participated in bible studies, nature studies, and land and sea exploration. These passengers experienced never-before seen sites, and scenes. Today the vessel is in full operation as a Tourism Adventure cruise boat sailing the Prince William Sound of Alaska.
Over the following decade NBBB expanded its capacities. The Shipyard grew to 14-acres. The concrete production floor doubled, with new machine, electrical, paint and pipe shops. New and modern equipment and fabrication domes with over-head crane equipment were installed, new engineering and administration offices were built. Personnel increased to approximately 125 employees in this period and the modular construction method was adopted. In 1979 NBBB purchased their Langley facility and invested in a new pier, dolphins, and barge to allow for dockside service work, final outfitting, dock and sea trials.
The expansion allowed for NBBB to take on larger projects, and in 1982 the yard delivered two (2) 150' x 31' Expedition Cruise vessels, formally known as the M/V Majestic Explorer and M/V Great Rivers Explorer, now recognized as M/V National Geographic Sea Lion and M/V National Geographic Sea Bird. With 31 staterooms carrying 62 guests, these vessels offered a new experience for crew and passengers alike. The vessels were designed to navigate narrow inlets, small harbors, and passageways inaccessible to larger ships. These unfrequented destinations became reachable to small boutique cruisers and offered an abundance of extra exploratory activities from wildlife photography, kayaking, and hiking.
Expedition cruise boats wasn't all NBBB had been exploring within the cruise segment. In 1986 NBBB delivered the 151 foot M/V Tole Mour, the first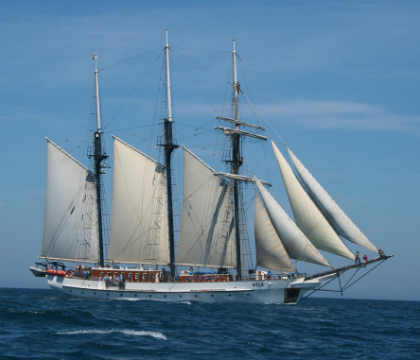 triple mast sailing schooner built in America since 1923, with eight (8) staterooms carrying up to 36 passengers. The vessel was originally commissioned as a self-contained primary health care support vessel for the Marshall Islands treating the residents with free health care. Later the vessel operated as a sailing school offering sail training, oceanography and marine biology education to hundreds of school-aged participants. It is now operating as a liveaboard sailing schooner exploring the Caribbean as the M/V Vela.
As boutique cruising became more and more popular NBBB saw a demand for smaller liveaboard dive boats. These spacious but intimate vessels were designed to explore the oceans seabed in the tropical areas or the world. With a large crew and small passenger count, crew serve passengers from meals, to guided dives and nightly activities on board. In 1987 NBBB built and delivered the M/V Mistique, a 81'-7" x 19'-4" x 6'-3" dive boat accommodating 30 passengers in 12 staterooms. The vessel included a spacious dive deck complete with rinse bins, fresh water showers and personal gear lockers. Spacious and comfortable staterooms included bunk beds, private toilets and showers. Dining area with a full bar and lounge area made up the public spaces. The M/V Mystique was a great success and in 1997 Nichols Brothers was contracted to build a sister-ship M/V Lorelei. Other dive boats constructed by NBBB included the M/V Kona Aggressor II a 79' x 30' six (6) stateroom – 14 passenger dive boat delivered in 1992, the M/V Palau Aggressor a 106' x 30' nine (9) stateroom – 18 passenger dive boat delivered in 1994, and the M/V Fiji Aggressor a 101' x 22' five (5) stateroom – 10 passenger dive boat delivered in 1997.
In 1995 the yard built its first paddle wheeler, the M/V Queen of the West. At 232' x 50' x 7', The Queen of the West accommodates 120 passengers in 67 staterooms with 60 person crew capacity. The vessel is powered by two (2) 12V396 MTU diesel engines driving a 26' diameter stern wheel viewable through the paddle wheel lounge. Other on board public areas includes the Calliope lounge, a library, dining room, the Mt. Hood lounge, a putting green, and spacious outdoor viewing deck. Spaces serving evening entertainment and on board historian and naturalist sessions. Cabins range from 280 sq.ft. suites to single cabins all offering a full-size private bathroom and expansive river views, while cruising the Columbia and Snake rivers.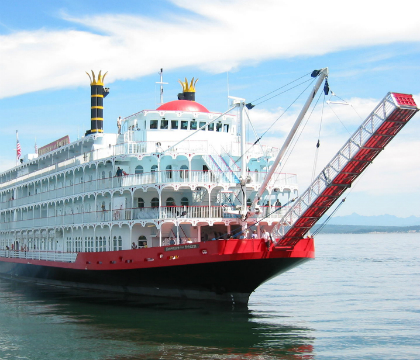 Following the success of the Queen of the West the customer contracted NBBB for a second overnight sternwheel cruise boat, the M/V Empress of the North, a 360' x 52' x 12'-6" 112 stateroom, 235 guest cruise boat with a 91 person crew built in 2003. This is the largest cruise vessel built at NBBB, and is the largest riverboat west of the Mississippi, operating on the Columbia and Snake rivers. The Empress of the North is powered by a diesel-electric system which allows for the vessel to steam on diesel or cruise on electric power while in sensitive environments. A river cruise aboard the American Empress incites moments of sheer perfection with a seamless blend of stunning backdrops, exceptional dining venues,dynamic public spaces, stunning décor, luxurious modern amenities, gracious service and endless authentic experiences.
The most recent cruise boat delivery, the M/V National Geographic Quest, delivered in July 2017, is the most luxurious cruise vessel delivered by the yard to date, and it will be followed by its sister-ship M/V National Geographic Venture, currently under construction at NBBB with delivery scheduled in Fall 2018.
The National Geographic Quest and Venture are state-of-the-art in every aspect. The 238' x 44' cruise boats were designed to carry 100 passengers and 50 crew exploring coastal waters, shallow coves, and fast-moving channels where wildlife congregate. All the while the crew and passengers are sailing with the luxury of supreme comfort. Accommodation design includes; 50 spacious guest cabins with private balconies, open decks for wildlife viewing, a partially covered sun deck, an expansive lounge serving various purposes, an extravagant dining room, floor to ceiling windows throughout, a gift shop, mud and exploration equipment room, gym, and spa. The vessel is outfitted with modern exploration equipment; two (2) cranes launch eight (8) service Zodiac boats that can either take guests on tours to explore the waters around them or ferry the guests to shore for land side exploration. In addition to the Zodiacs; kayaks, paddle boards, snorkeling gear, dive equipment and a wide range of cameras to record the surrounding wildlife and scenery are also carried on board for the use of guests to broaden their experiences. A SplashCam and hydrophone enables quests to look and listen beneath the waves while narrated by undersea specialist, one of many specialists onboard each voyage. NBBB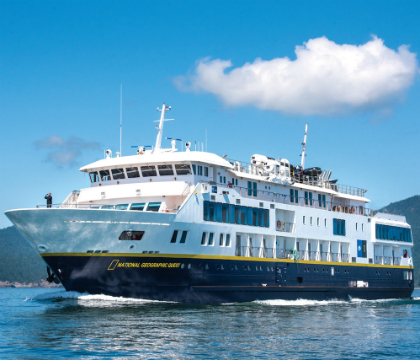 seamlessly integrated the ships design, mechanical makeup, electrical systems, interior design and architectural arrangements resulting in a ship that exhibits highly-functional expedition voyage capabilities, remarkable visual appeal and luxurious comfort for both passengers and crew. These vessels were built to last a lifetime, much like the NBBB built National Geographic Sea Bird and National Geographic Sea Lion (1982) operating domestic and international waters today.
The Cruise boat of the future
Nichols Brothers Boat Builders is continuing its leading role in cruise vessel construction in North America and is working on plans for the next generation of boutique cruise vessels.
The cruise ship of the future will be contemporary, luxurious, and adventurous boutique cruising at its finest. The yard is developing new vessels with advanced propulsion systems, further motion compensated hulls and refined interior/exterior arrangements to continue to enhance the passengers experience.
With passenger comfort, and the environment in focus, these vessels will be powered by diesel electric propulsion systems combined with battery units for quiet operation, optimize fuel economy and reduced environmental impact. This concept will allow the vessel to run variable speed diesel generators while in route to the destination, and then navigate and idle silently within the destination on electric battery power with little or no impact to the surrounding environment.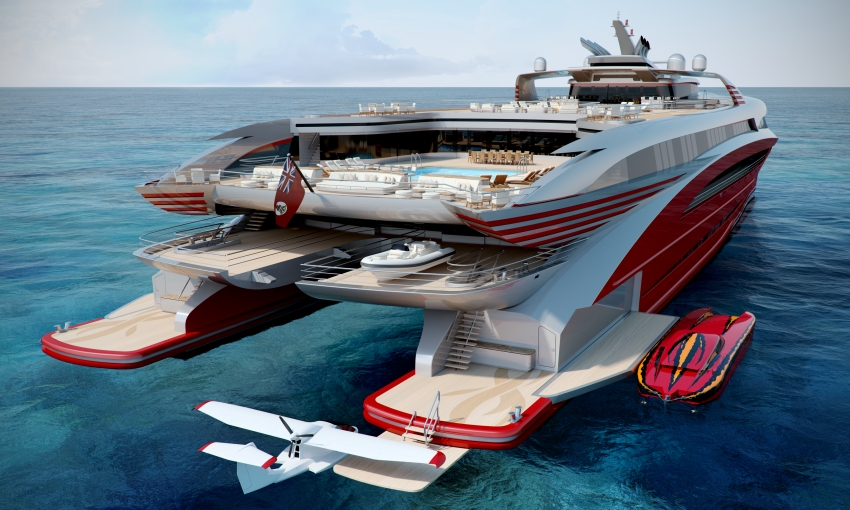 The new vessels have a high degree of passenger comfort. NBBB is working with highly renown naval architects and interior designers to deliver vessels which will meet customers expectations second to none. Through innovative hull designs, passenger comfort will be improved through the use of motion compensated hull and stabilizing technologies, reducing the movement of the ship will allow for reduced noise through less pitch and roll of the ship in waves.
While the interior will be of the highest standard and suited to an exploration style cruising, there will also be high focus on life onboard through innovative logistic solutions. With only 50-100 passengers onboard, each and every guest will feel as if they are absolutely catered to, onboard and off. Larger crew spaces offering more crew to serve guests from dining attendants, to room services, spa professionals, fitness coaches, wildlife and nature specialists, and land and sea exploration guides.
Combined with exceptional service, additional on board public areas make each trip unforgettable. On board, each guest can enjoy an expansive dining area with farm-to-table meals sourced daily from ports visited and prepared by executive sous chefs onboard. Comfortable lounge areas with scheduled events hosted by field experts. Spacious exploration equipment rooms with personal guest lockers. Spa and fitness centers featuring infinity jacuzzies. High tech camera equipment including drones, and Nauticam underwater cameras. Beautiful sun decks, with retractable marinas that stock water skis, wakeboards, ocean kayaks, paddle boards, Skidoo jets skis and snorkel gear.
NBBB will continue its long history and commitment to the boutique cruise market and will be investing in technology, expertise and knowledge alongside the development of the industry. Located in the pristine waters of the Pacific Northwest, the shipyard and its employees lives in the middle of natural wonders, where Orcas can be seen swimming outside the shipyard launch-way from time to time, reminding us of the wonders to be explored.