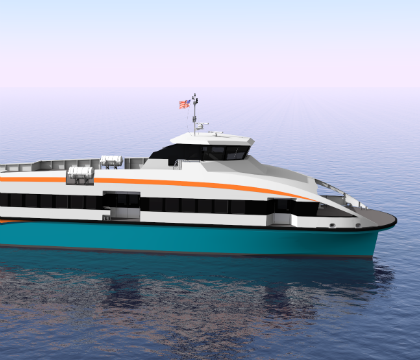 NBBB has been selected as the design and build prime contractor to build two new high-speed passenger-only ferries for Kitsap Transit with an option for a third vessel.
The two 140' x 37' x 12' aluminum high-speed catamarans will be built to USCG subchapter K regulations and will each carry 250 passengers and 26 bicycles, a must for Seattle commuters. The catamarans were designed by BMT Nigel Gee to optimize for loading and unloading of passengers as well as in-route time. The vessels can load passengers and bikes through a two-station loading area on the sides, or alternatively through divided passenger/bike lanes from the bow. The vessels will have a maximum speed of 37 knots and cruise speed of 35 knots at full load.
The Ferries will be among the first vessels to feature a selective catalytic reduction (SCR) exhaust aftertreatment system powered by two MTU Tier IV 16V400M65L main engines each putting out 3435 HP @ 1,800rpm, through ZF 9050 gears, turning Kamewa S71-4 waterjets, reaching 35 knots at full load. Additionally an active ride control is being installed, supplied by Naiad; the interceptor system will ensure a smooth, comfortable ride.
The two contracted vessels will be delivered in late 2019, and early 2020.