S-190 Hybrid Tractor Tug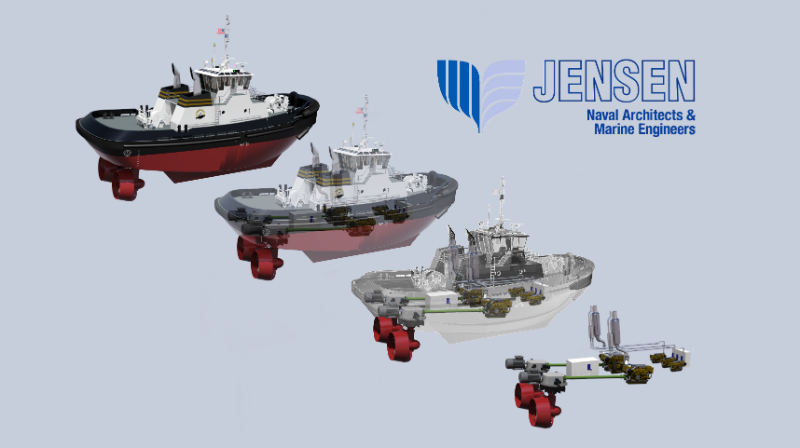 100' x 40' Z-Drive Tractor Tug
Nichols Brothers Boat Builders has signed a construction agreement with Baydelta Maritime for a new 100' x 40' Delta Class Hybrid Z-Drive Tractor Tug. The new hybrid tug will be the seventh NBBB built tug in Baydelta's fleet; though, the first hybrid tractor tug.
The tug is powered by two (2) Caterpillar C3516 C Tier 3 diesel engines each rated at 1995 kW @ 1600 rpm; and by two (2) Rolls Royce 424kw electric motors. The z-drive system, two (2) Rolls Royce 255FP units, can accept power from the diesel engines, electric motors and from both power sources. The electric motors are powered by three (3) CAT C9.3 300Kw each, 480V 3-phase @ 1800 rpm generators, and one (1) harbor generator a C7.1 150 Kw 480V, 3-phase @ 1800 rpm.
The Rolls Royce hybrid system, allows for the vessel to operate direct-diesel, diesel-electric or fully-electric. This concept will save on fuel and reduce emissions, while suppling Baydelta with the same power and vessel characteristics needed for their operations. The flexibility provided by the drive system will allow loitering and transit at up to 7-8 knots in electric-only mode, then a bollard pull of >90 short tons in combined diesel-electric mode. The vessel will maintain the exceptional maneuverability, stability, and towing capacity of the earlier Delta Class vessels.
The tug will have 7 berths and the major equipment on board includes; Rapp Marine electric hawser winch, and a single drum tow winch, and Centa carbon fiber shafts. In addition to the drive units and hybrid system, Rolls Royce will be supplying the control system and main switchboard, electric motors and their control cabinets.
Delivery of the vessel is scheduled for Quarter 1 2019.